For centuries, people have been meditating in order to improve their physical and mental health. However, recent studies suggest that meditation before exercise may be more effective than after. Find out why this is the case and how you can use it to your advantage as an athlete.
I always meditate before exercise. I find that it helps me focus on my workout and keep my mind clear. It also helps me to relax and get rid of any tension in my body.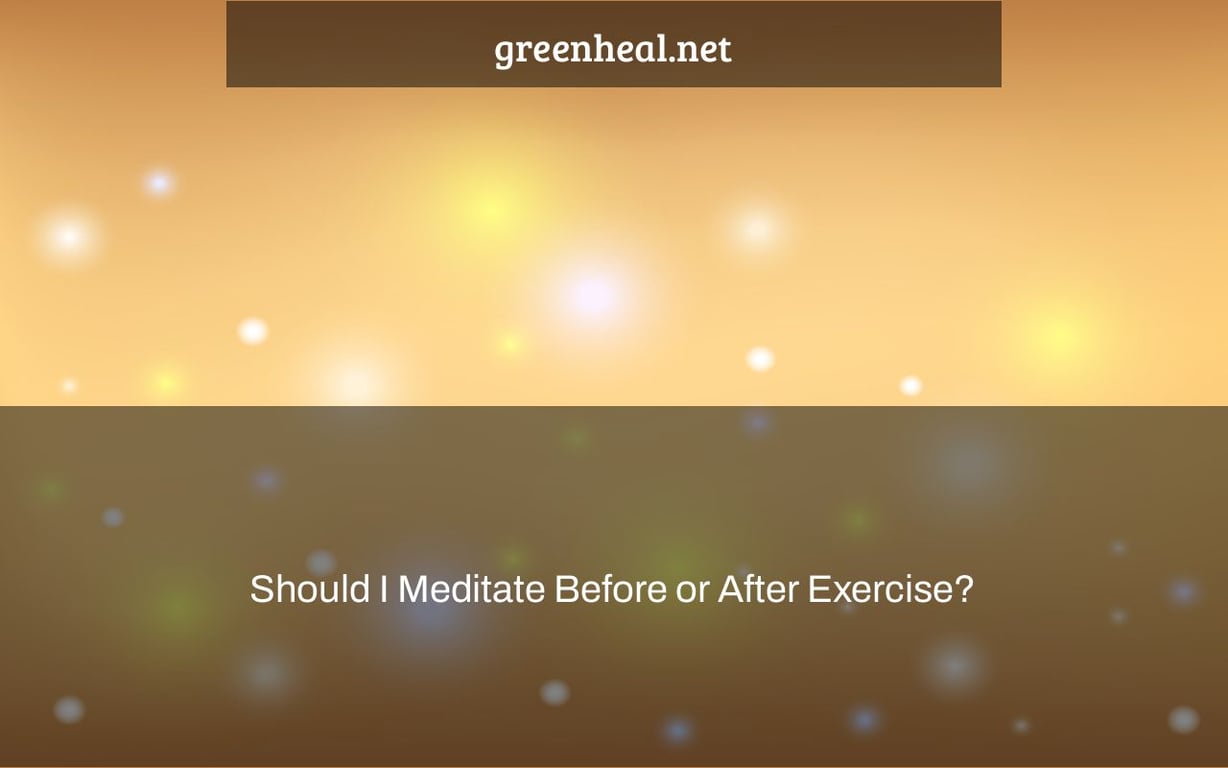 It's possible that some of the links in this article are affiliate links. For additional information, please read our disclaimer.
Have you heard about the health and wellness groups touting the advantages of meditation? In the West, mindfulness and meditation are growing in popularity, with many individuals eager to try out a meditation practice. You may want to include meditation into your daily health routine. Meditation, like exercise, is best performed on a regular basis throughout the week to get the advantages.
If you wish to meditate at the same time as you exercise, you may be wondering if you should meditate before or after. The answer is that you have complete control. There is no such thing as a good or bad moment to meditation. You could notice that your thinking is clearer when you first get up and before you start working out. Alternatively, you may discover that you are more calm after your yoga or gym practice. Meditation may be done either before or after you exercise.
What is the definition of meditation?
So, what is meditation, exactly? Is it as simple as shutting your eyes and imagining nothing? Nope! Meditation is a powerful and transformational technique. During meditation, your attention is drawn inside. You are able to progressively shift your mind, discover clarity, and feel calmer and less reactive by focusing on a single point of attention, such as your breath or an emotion.
Meditation may be done at any moment of the day. It could feel pleasant to practice just before bedtime or in the midst of the day at your desk. Meditation is amazing since you don't need anything to do it! You just need a few minutes and yourself to get started.
What Are the Pros and Cons of Meditating?
It's no surprise that so many people are turning to meditation because of its many advantages. It's a beautiful discipline to develop, and it, like yoga, has several mental and physical advantages.
The following are some of the advantages of meditation:
Improved attention and concentration: Meditation has been demonstrated to help individuals concentrate for longer periods of time. This is unsurprising given that you meditate with a single point of attention.
Reduced anxiety and stress: Regular meditators have lower cortisol (the stress hormone) levels and are better able to remain calm in difficult circumstances. You may feel less worried and agitated in circumstances if you meditate since it enables you to concentrate on the current moment.
Increased self-awareness: Meditation allows you to notice your thoughts and emotions without being attached to them. This increases self-awareness and the capacity to think before behaving. You may reduce your stress and anxiety levels by being more aware of yourself and your emotions!
Increased compassion and kindness: You may connect to a sense of love for yourself and others via meditation methods like Loving Kindness or Metta meditation. Practicing this in your thoughts may help you apply what you've learned in your practice to your everyday life.
What Are the Different Meditation Types?
Every sort of individual may benefit from a variety of meditation techniques. There is a practice for everyone, whether you want to nurture greater love in your life or just slow down and enjoy the present moment.
Meditation may be done in a variety of ways, including:
Mindfulness is the ability to concentrate on the current moment. As you begin to journey within and become aware of your thoughts and emotions, you will most likely concentrate on your breath.
Cultivate a sense of love and appreciation for yourself, your loved ones, and the whole planet by practicing loving kindness. This meditation is about connecting to a sense of love and then sharing that emotion with everyone around you.
Mantra: This technique entails repeatedly repeating a mantra, either in your head or out loud. Your mind will concentrate on the mantra and the sensation it evokes inside you, which is often a Sanskrit mantra.
What is the best way for me to meditate?
Meditation comes in a variety of forms and sorts. You may enroll in a class that follows a certain lineage, use an app to listen to audio meditations, or undertake a self-guided meditation. If you're just getting started, try a few different meditation techniques to determine what works best for you.
If you want something quick and easy, apps and audio meditations might help. You may immediately access a meditation from your phone and take the time to meditate and journey inside if you just have a few minutes each day.
You may meditate in the following ways:
Use an app, video, or audio recording at home.
At a studio: Your local yoga studio may offer a meditation session that you may attend. Meditation studios are becoming more popular in major cities, and they often offer a range of meditation methods and workshops.
At work: Take a few minutes during your lunch break or throughout your job to reconnect with your breath and heart. Close your eyes and sit at your desk, guiding yourself to concentrate on your breath and the present moment.
Is There Anything I Need to Meditate?
All you need is yourself, your breath, some time, and a calm area. You may set aside some time and space depending on your workout that day if you want to meditate before or after you exercise.
Set up a meditation space in your home if you work out at home. You may make your area nice and comfortable by using a chair or a soft cushion, lighting a candle or incense, and lighting a candle or incense. For help, download an app or look for a guided meditation on the internet. Focus on your inhales and exhales and follow your breath if you want to practice in quiet. Begin with 1-2 minutes and work your way up.
You may meditate before or after your class or gym session if you work out in a gym or a studio. You may practice this at home or in a quiet area of your gym or studio. Before and after class, most yoga courses are quiet and serene, and you may take a few minutes to meditate. If the gym is too distracting, you may spend a few minutes in your vehicle before entering or leaving it.
When is the Most Beneficial Time to Meditate?
The greatest time to meditate is when it feels most comfortable to you! You may like to practice at a certain time each day or on a daily basis. The most essential thing is to have a constant practice. It's preferable to spend a few minutes a few times a week than one large session once a month.
You may want to try practicing:
When you first wake up: A meditation before you start your day or before your morning yoga practice may be quite beneficial. With a conscious and aware attitude and sense of self, you may set yourself up for success. Try a brief meditation practice to adjust your viewpoint and relax your mind if you tend to feel worried when you wake up.
During your lunch break: During your lunch break, you may be able to slip away to a yoga or meditation class. This might be a terrific approach to re-energize yourself and carve out some time throughout your workday for yourself.
Can't get out of the workplace in the middle of the day? You can meditate at your work, no problem! Close your eyes, put on some headphones, and sit at your workstation. A minute or two of thoughtful and meditative breathing may make a significant effect.
At the end of the day: Meditating at the end of the day is a lovely way to unwind. You may begin to relax your body and nervous system by moving within and practicing introspection and thankfulness for your day.
You may include meditation into your workout regimen either before or after you exercise. Determine which time works best for you. Practicing before you exercise will help you feel more aware and focused throughout your activity. It may also be beneficial to practice thereafter since your mind will be quieter and it will be easier to look inside. It's important to remember that this is your practice, so do what feels right to you.
Associated Issues
How long will it take for me to see the advantages of meditation? This is contingent on how often you practice and how dedicated you are. Some individuals experience improvements after only one or two weeks of meditation, while others notice changes after months of practice. Maintain consistency in your meditation practice and take pleasure in the trip.
Is it possible for me to meditate every day? Absolutely! A rest day is usually a good idea when engaging in a physical activity such as going to the gym or practicing yoga. You may, however, meditate every day, or even many times a day!
Is it difficult to meditate? Slowing down and going inside might be difficult in our fast-paced society. Mediation may be difficult to master when you first begin. It will get simpler and more pleasurable with constant piratic and devotion.
Mariel is a yoga instructor and writer located in New York City. She has been teaching for ten years and has been a lifelong student of the old art.
Watch This Video-
Many people are wondering if they should meditate before or after yoga. Some people prefer doing it before, while others like to do it after. There is no correct answer. Reference: meditation before or after yoga.
Frequently Asked Questions
When should meditation be done?
A: Studies have shown that meditation can be incredibly beneficial for many aspects of your life, including increasing focus, improving sleep quality and decreasing stress levels. It is best to find the time in which you are most relaxed and at peace with yourself on a regular basis.
Which is more important meditation or exercise?
A: The answer to this question is that both are necessary in order for a person to live an active and healthy life. Meditation benefits people by helping them clear their mind, focus on the present, increase awareness of breathing techniques, lower stress levels and reduce anxiety. Exercise helps people with staying fit so they can do all these things easier as well as improving heart health.
Can you meditate right after waking up?
A: If youre going to meditate in the morning, I recommend doing it at least an hour before bedtime. This way your body will be more rested for sleep and wake up feeling good about yourself!
Related Tags
meditation before or after exercise reddit
meditation before or after running
benefits of meditation after workout
should you meditate before bed
transcendental meditation before or after exercise